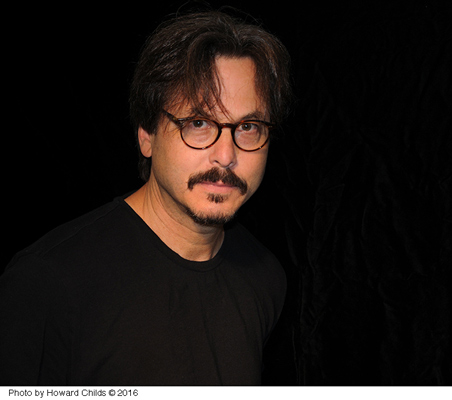 Marc Dennis is an American artist known for his hyper-realistic paintings that celebrate the subversive potential of beauty and explore the charged subjects of identity, pleasure and decadence.
Interested in transformative possibilities Dennis merges various movements throughout the western art historical canon with modern tropes in order to create clever, provocative and symbolic contemporary paintings that play on our psychological, cultural and spiritual relationships.
Influenced by Southern European figurative masters such as Caravaggio, Velasquez, and Manet, and Northern European still-life masters, such as Ambrosius Bosschaert, Jan Davidsz de Heem, and Rachel Ruysch, Dennis introduces us to an alternate reality rich with hype, narrative and humor where art, history, nature and pop culture intersect.
Born in Danvers, Massachusetts in 1971, Dennis was one of five sons. He received his B.F.A. from Tyler School of Art of Temple University in Philadelphia, PA and his M.F.A. from The University of Texas at Austin. He lives and works in Brooklyn, NY with his wife and two children.
His works have been included in numerous group and solo exhibitions in New York, London, Los Angeles, Chicago, Miami, Boston, Houston and Seattle among others. His works are in numerous private and public collections, including those of John and Amy Phelan, Glenn and Amanda Fuhrman, Bill and Maria Bell, Beth DeWoody, Larry Gagosian, Larry and Marilyn Fields, David and Jennifer Stockman, Carl and Donna Hessel, Anders Hedin, Bill Hair, Courtney and Karen Lord, Nancy Rogers, Michael Danoff and Jo Laird, Sean and Tammy McCarthy, The Neuberger Berman Collection, New York; The Blanton Museum of Art, University of Texas at Austin; The Springfield Museum of Art, Ohio, and the Iris & B. Gerald Cantor Center for Visual Arts at Stanford University, Palo Alto, California among others.
---
"At the fair, Dennis's new paintings fill canvases with explosions of luscious flowers, like classic still lifes on steroids."
- Edward M. Gómez, Hyperallergic, April 2017 | Read Full Article
---
"Amongst our favorite artworks being exhibited here are Marc Dennis' realistic still-life painting of luscious flowers at Dallas' Cris Worley Fine Arts."
- Paul Laster, Whitehot Magazine, April 2017 | Read Full Article
---
"Macabre or not, each of the 200-plus works go back to Wolf's goal to embrace all aspects of humanity, a theme undeniably amplified by the setting." - W Magazine, 2016 | Read Full Article
---
"The collection Wolf has compiled for this show is varied and impressive in both quantity and quality. The fact that the art is displayed against such a psychologically and emotionally charged backdrop lends weight to each piece." - LA Weekly, 2016 | Read Full Article
---
"Human Condition is a unique opportunity to experience artwork outside the confines of a typical art space. In using the skeletal remains of the hospital and its discarded medical supplies, artists and viewers are encouraged to explore the notion of what we leave behind—from objects to human history." - The Los Angeles Beat, 2016 | Read Full Article
---
"Dennis' paintings explore the contradictions and complexities of reality." - Xcellence Luxaviation Quarterly Magazine, 2016
---
"The hyper-realism of Marc Dennis' art historical pastiche in particular Ironman, Captain America and a Russian Mobster Walk Into a Bar, humorously constructs a new scenario for these three characters and Edouard Manet's famous painting A Bar at the Folies-Bergère ." - The Observer, New York, NY 2015
---
"Dennis is nothing if not frank and gregarious. He is a dead-ringer for Johnny Depp, a brusque, fast-talking sports fan raised outside of Boston, whose body of work has become one of contemporary art's most recognizable signatures."
- Artvoices Magazine, 2015 | Read Full Article
---
"New York-based artist Marc Dennis is known for his hyperrealist portraits of spectators at art shows standing before near-exact replicas of famous works of art, sometimes playfully posed before a painting in such a way as to suggest a physical interaction between viewer and canvas."
- Pasatiempo, 2014 | Read Full Article
---
"Marc Dennis includes a celebrity in his painting, A Great Big Giant World, which depicts rapper Snoop Dogg in a velvet jacket, gazing at a framed portrait of a kitten -- a comment on the Internet's fascination with felines."
- Time Magazine, 2014 | Read Full Article
---
"Marc Dennis' hyperrealistic paintings are centered around the gaze and ideal for viewers who enjoy spending a lot of time with a single work of art. "
- Beautiful Decay, 2014 | Read Full Article
---
"Perhaps, part of the joke, too is that you will not find a rabbi, artist, or curator present in any of Mr. Dennis' work in this show. Instead, we find artwork within artwork: a large painting of a painting of a cat, which is protected by Kanye West dressed as a security guard, or the back of a cheerleader who stands in front of Picasso's "Les Demoiselles d'Avignon."
- Whitehot Magazine, 2014 | Read Full Article
---
"Many of Dennis' highly detailed paintings depict some of the most iconic and provocative artworks in history, such as Courbet's The Origin Of The World (1866) and Caravaggio's Love Conquers All (1602). He has a special way of sharing the dichotomy of life as he plays with American culture."
- Nailed, 2014 | Read Full Article
---
"Marc Dennis' canvases are technically polished yet conceptually playful, and rife with visual jokes and allusions from art history."
- Modern Painters, 2013 | Read Full Article
---
"Wryly commenting on everything from art history to the irrationality of desire, Dennis's paintings are no joke."
- Village Voice, 2013 | Read Full Article
---
"Trompe l'oeil painting gets a decidedly modern twist in Marc Dennis's masterfully executed, frequently hilarious, hyperreal mashups of art historical references ladden with issues of voyeurism and art world navel-gazing."
- Artinfo, 2013 | Read Full Article
---
"Marc has a keen understanding of art history and contemporary culture and has an affinity for injecting artistic and social conventions with a healthy dose of cheeky humor."
- Huffington Post, November 2013 | Read Full Article
---
"Marc Dennis is partial to the attentive viewer. The artist, who has a penchant for hyper-realist painting, creates compositions where images hide within images, engaging his viewers in a game of pop cultural and art historical references that seems to have no beginning and no end."
- Hi-Fructose Magazine, November 2013 | Read Full Article
---
"The history of art is long and complicated. It has been shifting and shifting. . .and then shifting again. Very few artists are able to defy the notions of art and how we look at it. Marc Dennis is one of them."
- The Wild Magazine, November 2013 | Read Full Article
---
"Marc Dennis' hyperrealistic paintings depict some of art history's most provocative and iconic artworks in the process of being seen today. The juxtaposition of the artworks, made in another place and time, with the contemporary stylings of the viewers that study them, depicts a collision of disparate images that is often overlooked."
- Huffington Post, November 2013 | Read Full Article
---
"Paintings within paintings, open-ended narratives, meta-jokes - Dennis' work is smart and slightly subversive."
- The Brooklyn Quarterly, November 2013 | Read Full Article
---
"Marc Dennis' work is good painting, provocative juxtapositions and a salient commentary."
- Huffington Post, 2012 | Read Full Article
---
"His convincing yet alien renderings of symbolically charged objects makes him a modern practitioner of the seventeenth-century Baroque style."
- Sixty Inches From Center, 2012 | Read Full Article
---
"Dennis' paintings provoke questions about the American relationship with beauty, decadence and power and begs the question, is this your fantasy?"
– The Seen, 2012 | Read Full Article
---
"There's something subversive about Marc Dennis's richly colored new paintings, and it's not just all the guns and kittens."
– The Morning News, 2011 | Read Full Article
---
"Dennis plays upon ideas of decadence, indulgence, tenderness, and the American obsession with violence."
– Whitehot Magazine, 2011 | Read Full Article
---
"Marc Dennis, dependably, puts his slick and exacting hyper-realist technique and ever-more naturalistic pictorial thinking to disturbing, perhaps politically incorrect purpose."
– Huffington Post, 2011 | Read Full Article
---
"It's hard to determine if Dennis has a bionic eye or a bionic brush."
– Blackbook, 2011 | Read Full Article
---
"Mr. Dennis, a self-taught bug chef, has long had a fascination with insects. Paintings he's done of beetles and wasps hang in his loft in Brooklyn. He ate a moth on a dare as a teenager and years later, a cooked cockroach that accidentally came with a restaurant meal."
- Sumathi Reddy, Wall Street Journal, September 2010 | Read Full Article
---
"Master painter Marc Dennis provokes our comfort zones in more ways than one; his paintings are skillfully executed, laborious still life masterpieces of beautiful subjects, usually directly or indirectly influenced by nature - much like his diet."
- Paul Bruno, DIRTY Magazine, September 2010 | Read Full Article
---
"Dennis is a highly accomplished artist whose work has been exhibited in many galleries around the country. In this intimate conversation he talks about his unusual subject matter as well as his extensive research on the clandestine artworks that were created in many of the prison camps during the Holocaust."
- Tish Pearlman of Out of Bounds from National Public Radio, Ithaca, NY, April 2010 | Hear Full Interview (scroll down to "Marc Dennis")
---
"Standouts at Bartos include Marc Dennis's amusing paintings of birds thinking of clouds."
- Paul Laster, Flavorpill, Art That Makes You Laugh, April 2010 | Read Full Article
---
"Sarah Murkett and Elana Rubinfeld who co-curated the show make it plain that the intention is to explore the various ways artists have used humor to address more serious issues."
- Anthony Haden-Guest, The Daily Beast, Can Art Be Funny? 2010 | Read Full Article
---
"Dennis' paintings share his appreciation for the inherent beauty of the natural world - right down to the sheen of the beetle's shell and the way a wasp curls into itself in death."
- Diana Bean, Good Life Magazine, February 2009 | Read Full Article
---
"Dennis' flowers present themselves as a kind of nucleus of beauty, surrounded by voluptuous petals and held by a strong sexy peduncle."
- Kyle Hinton, Slash Magazine, January 2009 | Read Full Article
---
"His paintings are so highly evolved – they're a little more than realistic."
- David Masello, Town & Country, October 2008 | Read Full Article
---
"The paintings evidence an ornithologist's eye, a youthful fascination with the natural world and an artist headlong immersed and in love with the material of paint."
- Freese, A blog about art, October 2008 | Read Full Article
---
"Whereas you or I may think of Japanese Beetles as garden pests... Dennis suggests a tray of festively frosted pastries."
- John O'Hern, American Art Collector Magazine, June 2008 | Read Full Article
---
"Marc Dennis's photorealistic painting True to Life pictures wasps as many of us - well, at least those of us who have ever been stung - like to see them: dead."
- New York Magazine, February 2008 | Read Full Article
---
"By studying nature day in and day out Marc has found something most of us have missed. By dissecting and recreating nature he has discovered and connected his individual human nature and traits to his subject to create an intimate and knowledgeable relationship."
- Nova Clutch Culture Space, February 2008 | Read Full Article
---
"Marc Dennis has made a career out of exploring a perverse preference for challenging preconceived notions of beauty and pleasure."
- Brooklyn Daily Eagle, February 2008
---
"Dennis is probably closer to the bejeweled manner of a medieval painter of miniatures than anyone contemporary."
– Alan Artner, Tribune art critic, Chicago Tribune, October 2007 | Read Full Article
---
"Dennis uses his brushes like a microscope and transforms all the subtle designs, shapes and colors of these amazing objects into richly detailed painterly concerns."
- Joshua Rose, American Art Collector Magazine, February 2007 | Read Full Article
---
"Dennis paints hyperreal unreality. His paintings of flowers are eerily familiar but totally alien to the real world."
– John O'Hern, American Art Collector Magazine, November 2006
---
"Destabilizing the familiar, dissatisfied with the limits of nature, Dennis leads us into the spectacle of subtly altered worlds, into the spellbound, enigmatic and wondrous terrains of invention and artifice."
– Lilly Wei, 2006 (excerpt from catalog for solo show at Ricco Maresca Gallery)
---
"His works are both beautiful and mysterious all at once…nervous and on edge with a psychological aspect."
– The Sun Post, Miami Beach, FL 2004
---
"Marc Dennis paints a perfect pristine wave."
– The New York Times, New York, NY 2004
---
"Marc Dennis' realistic oil paintings of animals are incredibly painted; they are very odd and discomforting, but beautiful in their technical facility."
– The Washington City Paper, Washington DC 2004
---
"Marc Dennis gives a nod to Caravaggio with paintings both beautiful in their execution and haunting in their effect."
– The Press & Sun Bulletin, Binghamton, NY 2004
---
"Dennis' work is a small celebration of art and the pain and suffering that is its fodder."
– Boston Globe, Boston, MA 2004
---
"The most startling works are ink drawings by Marc Dennis of good and evil. By devotedly executing the details, Dennis forces the viewer to contemplate the mixed messages of war as art."
– Austin American-Statesman, Austin, TX 2003
---
"In his decidedly post-modern paintings, Dennis seduces the viewer to look closely by using familiar and inviting genres like still-life and portraiture to ensnare the viewer who subsequently could not resist the rich layers of emerging meaning."
– Andrea Inselmann, Johnson Museum at Cornell University, Ithaca, NY 2003 (excerpt from catalog for solo show at Ricco Maresca Gallery)
---
"Among the most disquieting works in the show are by Marc Dennis. They are some of the most effective narratives because the unusual and disturbing quality of the subject matter forces us to think about power."
– City Magazine, Rochester, NY 2000
---
"His works beg questions from viewers…raising questions of vulnerability and control."
– The Corning Leader, Corning, NY 1999
---
"Dennis uses mythological and biblical references as well as symbols exploring not only the act of painting, but also relevant societal concerns."
- New Art Examiner, Chicago, IL 1998
---
"Using the style of seventeenth-century Baroque artists, Dennis' often surreal contexts are disorienting and forceful."
– Art Papers, Atlanta, GA 1998
---
"Dennis' paintings invite participation and revulsion in an unsettling world of intense and unpleasant emotional pressure. While tempting the viewer to merge with the warm flow of the luscious medium, one is likely repelled by the perverse grins, bad teeth and gums of his subjects."
– NY Arts, New York, NY 1998
---
"Like the past masters he loves – Caravaggio, Velasquez, Goya -- Dennis is both a social satirist and a deeply interior artist. Looking out on an irrational society, he holds us at a distance with his observing eye and extended arm."
– Katy Siegel, contributing editor for ARTFORUM, excerpt from essay for marcdennis.com 1998