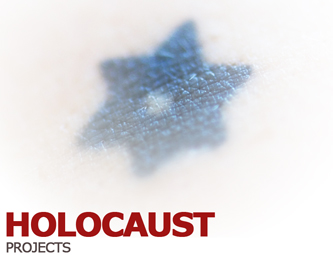 Introduction:
As a Jew, professional artist and professor of art, the subject of the Holocaust (Shoah in Hebrew) interests me greatly. I've been lecturing on the subject of clandestine artwork made by prisoners inside Nazi concentration camps for over ten years. My research and scholarly activity has become personal in that I learned recently through genealogical research undertaken by a distant cousin living in Jerusalem, Israel that 24 fourth and fifth cousins on my mother's side were murdered at Auschwitz-Birkenau and two other cousins froze to death in the forests in and around Vilna while serving as Partisan Fighters. I am currently working on a number of projects and continue to lecture both regionally and nationally.
MIRRORS
A VIDEO INSTALLATION PROJECT
Synopsis: American artist Marc Dennis and Israeli filmmaker Liron Unreich co-produce and co-direct six large format video portraits of six Holocaust survivors. Centered around the potency of dialogue between the past and present, silence and sound, the exhibit aims to transport, enlighten and inform, offering an evocative and contemporary approach to the conventions of Holocaust documentary and as a modern day memorial.
The Ripple Project:
SERIES ONE
Synopsis: The Ripple Project: Series One is a film consisting of six 20-minute chapters, each documenting the lives of ordinary people living the ripple effect of extraordinary circumstances. Like a stone dropped into a pond, the Shoah created ripples. Radiating outward through the lives of individuals and communities, each one contains a story that continues to impact our lives. TRAILER narrated by Elliot Gould.
Under The Floorboards
Hidden Art of The Holocaust
A One-Hour Visual Presentation on The Subject of Clandestine Art Made by Inmates Inside Nazi Concentration Camps
Synopsis: Inmates of concentration camps made thousands of clandestine drawings and paintings. In fact some 5,000 drawings and paintings survived the war – each one revealing a human dimension – providing us with a rare glimpse of the daily existence in the camps. Through images of the many drawings and paintings, including graphic photographs taken by the SS, the presentation covers a wide range of topics from the concentration camp system and the art made in secrecy, to the smuggling of art supplies and the incredible story of an art studio and museum at Auschwitz. Click here for Press Release (pdf).